OUR TEAM

Nazar Kamanngar, MBA
CEO
Nazar has been CEO of Smile Stations, the first global oral care open platform for patient education, communication, advertising, and merchandising at point of care of dental offices and a leader in oral care since 2014. She earned her MBA from St. Mary's College and has served as CEO of Brushlink since June 2022. Nazar is an author of several children's books that help influence good brushing habits.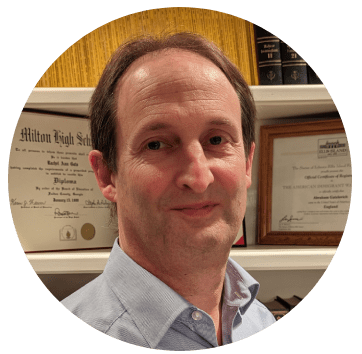 Mark Davidson
President of Global Market
Mark Davidson is a senior international insurance executive with 28 years of experience in medical and dental insurance. He joined Brushlink after a nine-year stint as President and CEO of DNS Holding Company, the international arm of the Renaissance Group, a large group comprising mostly US dental insurance companies under the names of Delta Dental and Renaissance Dental.

Tony Pitman
CTO
Tony has been developing computer software for almost 40 years. His mobile experience started back in the days of the Palm Pilot, Apple Newton, and Sony MagicCap. He was one of the original inventors of the mobile text input system, Swype. He has also held positions at several companies like Holley Performance Group, where he led their mobile development unit.

Brad Bertoglio
VP / Corporate General Counsel
Brad Bertoglio is a corporate attorney with 20 years of experience, specializing in patents and intellectual property law for clients ranging from startups to multinational corporations. He has been actively involved in numerous technology startups as a consultant, COO, General Counsel, executive, and legal adviser.

Walter Palencia
Director of Customer Engagement
Walter has worked with various type of technology for more than 10 years and served a variety of organizations where he gained the trust of satisfaction of customers. He brings those skill sets and more into his role with Brushlink.

Dr. Omid Mehdipour
Chief Dental Officer
Dr. Mehdipour joined Brushlink after graduating from dental school with honors in 1994 and practicing dentistry for a number of years. Dr. Mehdipour attended Howard University-College of Dentistry and completed his post-doctoral in orthodontics in 2007 at the University of Colorado, School of Dentistry.

Roxy Abedi
Director of Strategic Partnership
Roxy earned her BA in integrative Biology from UC Berkeley in 2022. She plays a major role at Brushlink evaluating strategic opportunities with employers, colleges, insurance companies, and clinics.