23rd April 2018
MP learns how dental tech could solve UK dental decay crisis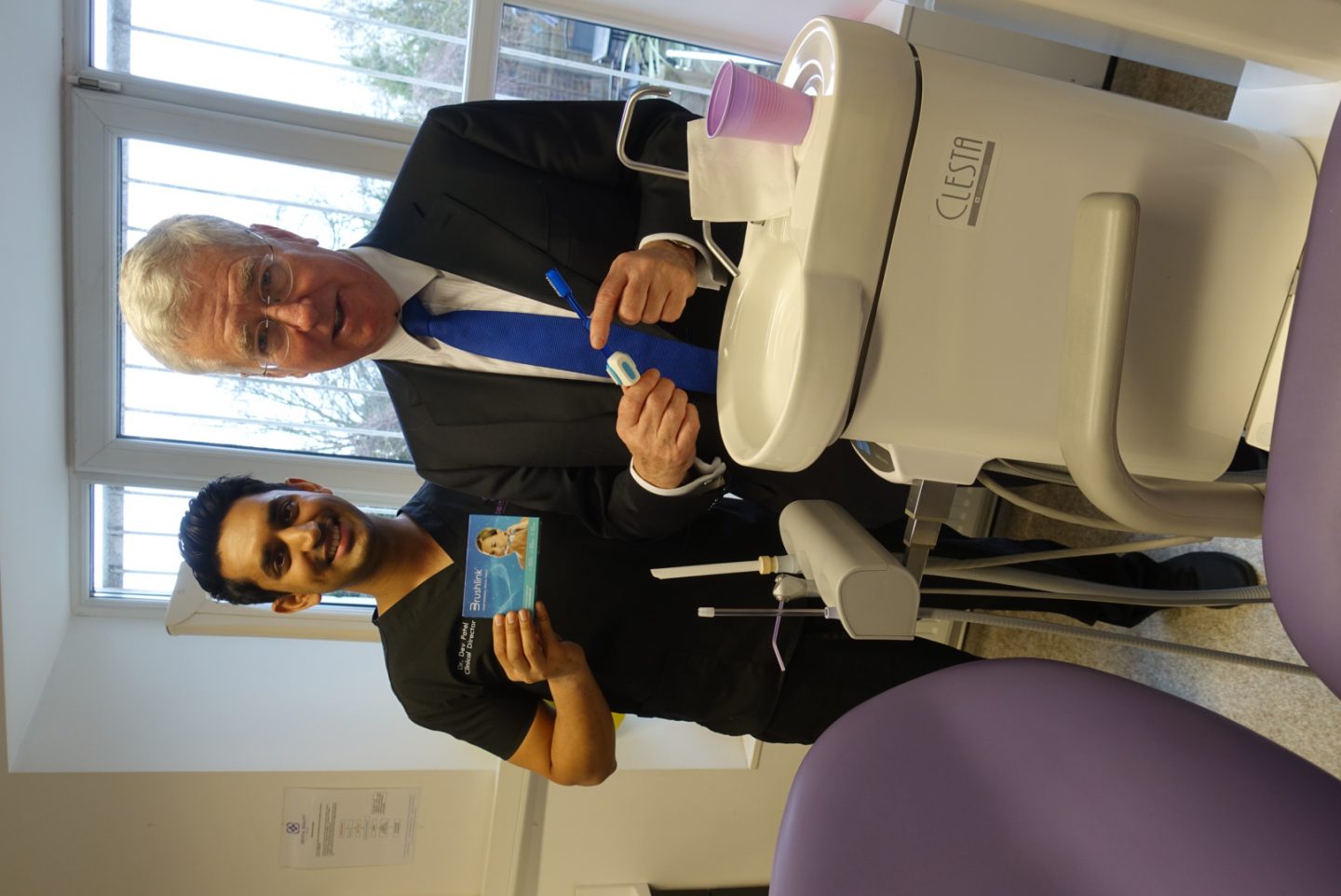 Sir Michael Fallon, MP for Sevenoaks, has visited the Sevenoaks headquarters of award-winning dental care innovation Brushlink to find out how it can play a role in reversing the deterioration of dental health in the UK.
Oral health remains an issue for the UK. Each week, more than 1 million patients in the UK use NHS dental services – many of them seeking treatment for dental disease, the consequences of which costs the NHS a huge £3.4bn a year.
Despite this, dental disease is wholly preventable. While moves such as the introduction of taxes on sugary drinks will help to exacerbate the problem, the basis of good oral health rests in effective and regular tooth brushing.
Brushlink is the first device of its kind that can track and coach people on brushing frequency, duration and angles while making this data available to dentists if consented – and it works with any toothbrush, manual or electric.
Brushlink has also been built to provide a brushing score each time it is used, which makes it great for families – parents and kids can compete with each other to see who is the 'best brusher'. The score is displayed along with 'in-brush' coaching tips and hints via a Bluetooth connection to a smartphone app; however, it also stores data for up to three months in case the user does not have a phone in the bathroom.
The data collected by the device is used by their dentist to create a bespoke dental hygiene plan based on their brushing habits. The care plan is automatically uploaded to the device, helping to make brushing even more effective and efficient and thereby improving oral health.
On his visit to Brushlink, Sir Michael saw the device demonstrated by the team and learned how it can improve dental care technique and therefore overall oral health. As well as learning about the technology and health benefits, Sir Michael was also given statistics showing how Brushlink can reduce the build-up of dental plaque and how it could be a cost-benefit to the NHS.
Leading the Brushlink team was Dr Dev Patel, CEO and Founder of Brushlink and an award-winning dentist. He said: "We were very pleased to welcome Sir Michael to our headquarters, which is also home to an award-winning dental practice. His visit as our local MP is part of a round of lobbying to Government to demonstrate how Brushlink could be a cost-effective solution to the nation's oral health problems, and a number of MPs are already offering support. We are also making headway with vulnerable groups such as children and the elderly via our work with the British Society of Dental Hygiene and Therapy's First Smiles campaign, the Chief Dental Officer's SMILE4LIFE initiative and a collaboration with Care UK (the country's leading provider of independent healthcare including residential care homes)."